Thai Herbal Aromatic Bath Salt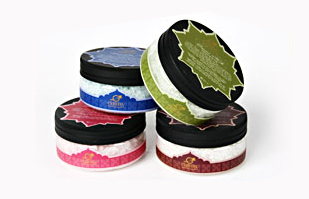 Sun dried sea salt is a natural cleanser when combined with pure essential oils and dried botanicals to add another dimension for your bathing experience. A few tablespoons of CHIIDA bath salt can be added to warm bath and soak for 10 minutes. Or another selection of Bath salt Ball by soaking in the tub, then scrub on your body and foot to clean your skin, relieve your stress with the natural aroma and create your new home spa experience in your tub.
Ingredient: Sea salt, Jojoba Oil and Essential Oils 100% such as Cinnamary, Lavender Rose, Oriental Herb and Unwind the sea.
---

CINNAMARY : CINNAMON and Rosemary
Rebalance Mental Clarity and Creativity
Spicy herb aroma with slightly sweet undertone, Cinnamon stimulates and refresh your mind,also Rosemary promote mental clarity and increase creativity, helping warming and toning with natural antiseptic properties.
---

UNWIND THE SEA : Seaweed and Peppermint, Eucalyptus
Refresh and Alert
Rich in essential vitamins and minerals, seaweed is good source of nutrients for enriching and soothing all skin types with touch of minty scent of peppermint and Eucalyptus essential oils to refresh you body.
---

LAVENDER and ROSE : Lavender and Rose
Rejuvenate and Love
Sweet and invigorating blend of Rose and Lavender essential oil provides a rejuvenator, astringent and mild antiseptic properties for healthy skin maintenance
---

ORIENTAL HERB : BASIL , LEMONGRASS and KAFFIR LIME
Revitalize and Relieve Muscular
riple combination of Lemongrass, Kaffir Lime and Basil scents as a natural herb for beauty stimulating and antiseptic properties provide revitalize your skin.