Aromatic Essential Oils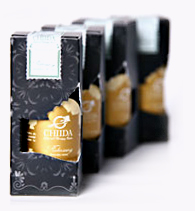 Aromatic Essential Oils
Instruction:
Drop aroma oil in water 0.5 – 1 liter for every 1-2 teaspoon.
How to Keep:
Keep in refrigerator, protect from light and heat.
---
CHIIDA Natural Aromatic Oils are made from 100% pure natural oils, which professionals have selected and blended following our secret recipes to create our four charming spa themes which constitute the R Series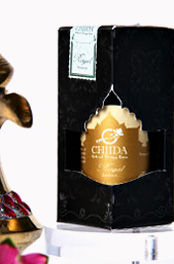 ROYAL: Retreat
Is a unique blend of Appeal aromatic oils, comprised of Ylang-Ylang, Bergamot, Lavender and Neroli, that induces warmth, calms insomnia, serves as an antidepressant, and relaxes with its sensuous aroma.
---

ROMANCE: Calming and Love
Is a sweet and complex blend of Lotus, Lavender and Peppermint that brings a sweetness to eliminate your stress.
---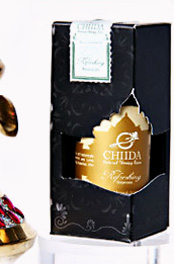 REFRESHING: ALERT and REFRESH
Is a stimulating blend of sweet Citrus that contains Lemon, Orange, Peppermint and Lime, thereby creating a refreshing concoction with which to tease your senses.
---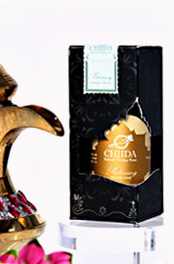 RELAXING: RELAX and REBALANCE
Is an exotic blend of oils extracted from Cedarwood, Geranium and Lavender, that carries strong tropical inspirations. It is excellent for soothing and relaxing your body and mind.
---
 Application for Essential Oils:
Natural essential oils are blended into a unique aroma for your sensual pleasure. Introducing them into your everyday lifestyle can be therapeutically beneficial as well as a simple pleasure. For vaporization, a few drops of essential oils can be added to hot water to infuse a room with their unique scent and thereby create an aromatic atmosphere. For easy inhalation place 3-4 drops of essential oil on a tissue and then breath in deeply through your nose. When trying an oil for the first time, use only one drop to accustom yourself, as well as to ensure that you do not have an undesired reaction to the oil. For aroma Bath oils add 5-7 drops to your running bath water and mix well before getting into the tub. For massages simply add up to 20 drops to 1 ounce of base oil and apply in gentle motions to the body.
Be sure to read the safety data for the essentials oils you choose to use.