Testimonials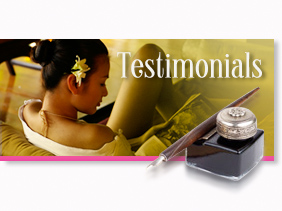 Thank you our value customer to give us a comments and reccomendation for improving our quality and keep our premium standard all the time. With our pleasure and passion to service you like our family.
From CHIIDA SPA TEAM…..  Please see more details for value wording ……Thanks again..

" เป็นความประทับใจที่สุดครั้งหนึ่งที่ได้มาที่นี่ การบริการเยี่ยม มารยาทยอด สถานที่สวยงาม บรรยากาศ….เพลงทำให้มีความสุข ขอให้เป็นแหล่งที่คนเชียงใหม่ภาคภูมิใจ ที่อวดได้ว่ามีสถานที่ผ่อนคลายดีมาก มาก แห่งหนึ่ง เจ้ายายขอให้กิจการรุ่งเรืองยิ่งๆขึ้น"
ด้วยความชื่นชมและจริงใจยิ่ง

จาก เจ้ายาย ดวงเดือน ณ เชียงใหม่ 
(ดร.เจ้าดวงเดือน ณ เชียงใหม่)
ประธานสภาวัฒนธรรมจังหวัดเชียงใหม่
Once, It is the most impression when I visited here CHIIDA Spa. The service is the most excellent, The staff mind is very superb. Exactlly, the perfect beautiful location and soft relaxing music during the treatment made me happy so much. Wishing CHIIDA Spa will be the best spa location to be proundly of Chiangmai Land which we could say that this is the one spa to reccomend for other tourists for Best Rejuvenate and Best Relaxing Experience when seeking someplace to reward yourself. Also, I, Dr.Joa Duangdeun Na Chiangmai, Wish CHIIDA Spa get success of this spa service business more and more…..
With Truly and Sincerly Admire,
From Dr.Joa Duangdeun Na Chiangmai
(The President of THAI Lanna Cultural Institute and Chiangmai's THAI Lanna Royal Family, Thailand) 
on  January 19, 2010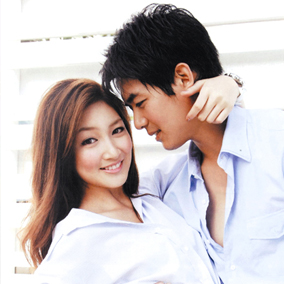 "Thank you na ka นวดสบายมากๆ พี่ๆน่ารักอัธยาศัยดี ยิ้มแย้มตลอด มาแล้วรู้สึกอบอุ่นมากค่ะ บรรยากาศที่นี่ก็ดีมากๆ ถ้ามีโอกาศแพนจะกลับมาอีกนะค่ะ"
ขอบคุณมากค่ะ
เขมนิจ จามิกรณ์ (แพนเค้ก)
นางแบบ และ นักแสดง
29 December 2008