Awards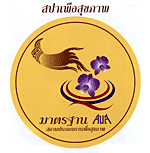 CERTIFICATION STANDARDS FOR THAI SPAS
Spa operators around the world have operated for self-regulation. Other than the presence of the International Spa Association or ISPA, there is not a global organisation, agency or legal entity responsible for setting global standards for spas per sector.
Thailand has set an extraordinary precedent. The state has been working jointly with private sector operators and Thai spa associations to develop specific standards for the Thai spa industry and has taken a step beyond current practice – the regulation and the enforcement of industry standards via legislation.
Under the Ministerial Announcement dated 21 April 2004 issued by the Ministry of Public Health (MOPH),

the ministry assumes the role of custodian overseeing the growth and development of the spa sector with one of its duties being to assist in the development of guidelines and specific standards for the Thai spa industry. Local industry standards are being developed in accordance with existing benchmarks for quality adopted by the global spa industry – a move which lifts the bar for health spas, traditional Thai massage, and long-stay healthcare products and services – the three leading products in this category.
Standards dictated by legal provisions
There are five sets of standards that make up the overall standard governing Thai spas as required by Thai law. These articles of law are currently in force. 
  
 – Standards related to the establishment/facility
  – Standards related the spa operator including duties and responsibilities
  – Standards for the provision of spa services
  – Standards related to the spa service provider
  – Standards pertaining to security
The MOPH had received 1,252 applications for certification. Of the 796 operators certified as of July 2005, 238 (30%) were spa operators; 426 (54%) were operators offering health and beauty services and 132 (16%), operators offering Thai massage services. Under the abovementioned April 2004 MOPH Ministerial Announcement, operators offering spa, health and beauty and Thai massage services are issued with certificates that are valid for one year and must be extended annually.